S A T O is an artisanal brand created with a passion for the intricate, meticulous art of leather craftsmanship.
#timeless. #minimalist. #handcrafted.
"I always appreciate and admire creative people especially when I see their passion to be good with what they are doing. Keep creating beautiful things!"

- Francis Libiran
Blogs
---
Founder and one-man worker of leatherware brand S A T O does his own sewing.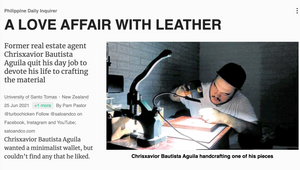 Former real estate agent quit his job to devote his life to crafting love.